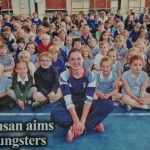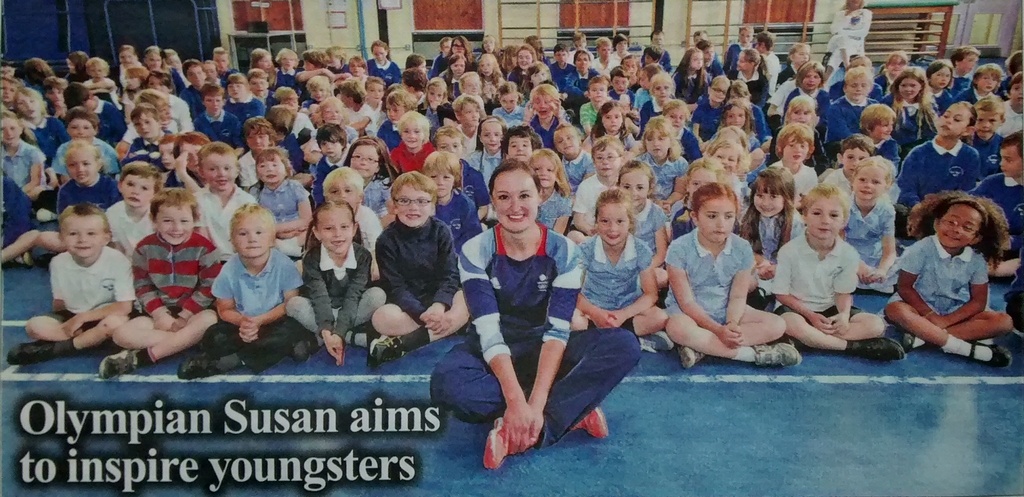 Commonwealth Games medallist and champion badminton player Susan Egelstaff visited Gullane Primary School on June 30th to inspire youngsters to get involved in sport. The former UK No. 1 female player, who won medals in the 2002 and 2006 Commonwealth Games and took part in the London Olympics, talked to pupils about her experiences as a player.
Glasgow-born Susan, who has family connections to East Lothian, is a regular visitor to the county and aims to support projects  which provide young people with access to sports facilities. She was keen to find out more about Gullane Sports Development Trust , which is working to provide the community with a multi-purpose astroturf pitch and clubhouse. The entire community has been involved in helping raise funds, with residents of all ages taking part in marathons, cycling, baking, swimming and donating to raise the money needed.
Primary school headteacher Maureen Tremmel said the children enjoyed meeting the former Olympian and hearing her talk, as well as seeing her medals. She said: "Susan is a big supporter of children having access to sports facilities and was particularly impressed by the Gullane Sports Development Trust. Having an all-weather training facility on our doorstep will transform the sporting opportunities for Gullane's youngsters."
Our thanks to East Lothian Courier for permission to reproduce their words and picture, which originally appeared in the 4th July 2014 edition.